How the group "The Cariños" was founded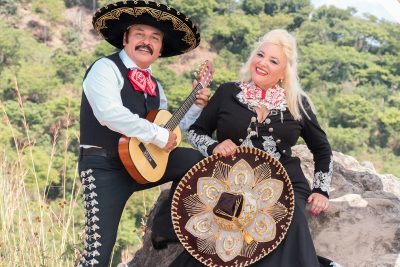 The Mexican Edgar (Eddy) Gomez has been making music on the island of Gran Canaria for quite some time. Partly as a solo performer, but also with his great band "Mariachi Azteka". Mariachi music is one of the typical facets of Mexican folk music. In 2011, this mariachi sound was even included in the Representative List of the Intangible Cultural Heritage of Humanity by UNESCO. A typical mariachi group consists of 5 to 20 musicians. But to the Mariachi sound at other place further info.
Eddy has thus solo, as well as with his band here on Gran Canaria already before the locals and tourists with his great music, but especially with his ingenious exceptional voice, entertained. Until one day the Marion Hoffmann, who had also already made a name for herself in the music business, became aware of Eddy and his band. And also Marion caused Eddy's voice immediately goose bumps. Thus the idea was born to make something big out of this voice. But this is very difficult in the "shark tank" of the music industry. So Eddy and Marion first decided to form a singing duo together. And so the "Cariños" were born. In the meantime, the Cariños have already become a cult here on the island of Gran Canaria. And together we have set ourselves the task of expanding this cult. Fortunately, Marion and Eddy also already have international experience in the music business. Here once again the authentic story that Marion personally provided you:
Excerpts from an interview with Marion Hoffman:
The duo "Die Cariños" consists of me, the German pop singer Marion Hoffmann and Edgar (called Eddy) Gomez, of Mexican descent. The two of us, Marion and Eddy, have been performing independently for years in Gran Canaria in the tourist centers and cafes and knew each other only casually. One evening I visited the place "Chiaou Chiaou" in Playa del Ingles (an ice cream parlor) to eat ice cream. But there performed Eddy Gomez with his band "Mariachi-Azteca" . And I was captivated by the music and especially by Eddy's voice. Quickly we both got into conversation and I invited Eddy to my performance at Café Marlene, where I sing for German audiences. And Eddy was just as enthusiastic about the German hits as I was about the mariachi sounds. Quickly the idea was born to sing together. Eddy was very sad because he didn't know German. Ok, I said, then you sing a hit song in Spanish and I in German. And so a new style was born. Me and Eddy got together and new songs were created on the beach of Playa del Ingles. We both started to write new melodies and lyrics together.
That's how songs like: Tequila and Rum' Dream Melody, 1000 Stars for You, Acapulco.... furthermore we both also covered titles. But the highlight will probably be the release of the song AMOR PURO written by Axel Breitung and produced by Florian Glötzl. AMOR PURO in German and Spanish language. A breath of Mexico - vacation feeling and German hit paired with much rhythm and Mariachi fever.... THE SUMMER CAN COME. The brand-new and always young music of the German hit presents the CARIÑOS.
Many thanks to Marion for this nice interview.
INFOS:
The hits are performed by the Cariños in great Mexican costumes and of course original Mexican sombreros. Marion( then as MONJA Marie, nun) was also musically accompanied by Eddy and his band in your cover version "Dominique" and a great video was made in Mallorca. (2018) More videos are planned in Mallorca, Gran 'Canaria and maybe in Mexico.... Eddy has with his band Mariachi Azteca with the song "Felicidades" already 15 mill. clicks. "Vamos a Alemania'' says Eddy always..This means as much as .let's go to Germany. What is Mexico for us, is Germany for Eddy....
"Me gusta Alemania"


Vita of Marion Hoffmann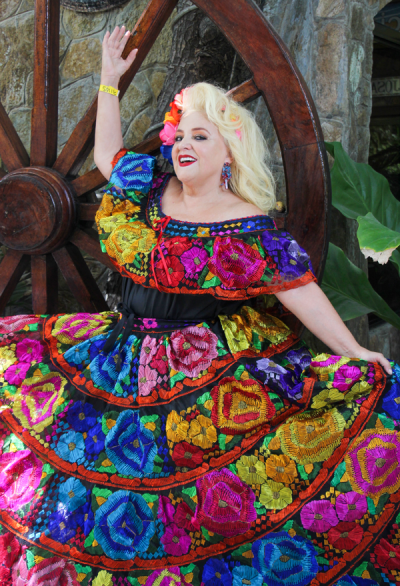 Marion Hoffmann was born in beautiful Bavaria, in the Bavarian Forest to be exact. Marion grew up in the Bavarian capital Munich, where she also spent her childhood and youth. In Munich she first attended acting school and showed her artistic talent on cabaret stages. Very quickly her singing talent was recognized, so that Marion was allowed to record a record at Ariola in Munich, with the cover song "I wanna be loved by you" by Marilyn Monroe. You can listen to the original song by Marilyn at Youtube. National performances within Germany followed, but also international engagements in Austria and Switzerland. In addition, Marion was also allowed to perform in the already then well-known Circus Krone Orchestra of Joe Schwarz. There followed performances at the largest folk festivals, the Oktoberfest in Munich, as well as the Canstatter Vasen in Stuttgart. Marion was also allowed to perform on cruises. There would be to call the MS Royal Star. Here is a picture of this ship from better times. Performances in several well-known German clubs followed, when Marion finally moved abroad. Several years of performances in China with Bavarian folklore in music and dance. The Chinese were simply thrilled by this Bavarian appearance. But it should not remain with appearances in China. During her further tour Marion also got to know Gran Canaria better, because here followed gala events, theater and vaudeville performances with Marion as Marily Monroe, Tina Turner, Dolly Parton, Marlene Dietrich and Wanda Jackson. You can see pictures from that time by clicking on the names above. In the course of time several CD's were produced such as "Marilyn 2000", "Dirndllieder", "Weißblaues Dirndl", Marions Partyhits and the crowning glory, the Rock-Hits of Marion Hoffmann. At the time in Gran Canaria, a real Mexican mariachi singer also performed here on the island with his band. Edgar Eddy Gomez with his group "Mariachi Azteca" on. Marion heard Eddy sing for the first time and immediately realized that this voice is destined for higher things. So Marion approached Eddy, which was quite difficult in the beginning, because Marion didn't speak perfect Spanish at that time and Eddy didn't speak German. And nevertheless, today one must say to our luck, the two understood each other. They decided to try singing together as a duo. This was so well received by the audience that since then the two have existed as the duo "The Cariños". For the non-Spanish speaking friends, fans and readers: Cariños means darlings. Within a short period of time they also produced their most recent CD "Traummelodien". Marion, or the Cariños sing but far not only cover versions, there are also own compositions such as: Hollywoodgöttin, weißblaues Dirndl, Ein Prosit die Krüge hoch, Jambo Afrika, Dieses Lied schenk ich nur dir, 1000 Sterne für dich, Amore Puro, Traummelodie, Lebenslang, Tequila und Rum. The newest song, Morgenrot, is about to be released. The Cariños have their performances in Gran Canaria, in Spain, in Germany but also in Latin America.
Vita of Edgar "Eddy" Gomez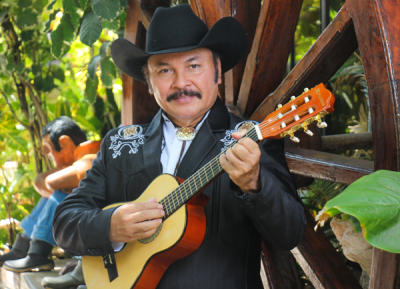 Eddy Gomez, native of Guadalajara in Mexico, the capital of the western Mexican state of Jalisco. This city is known for tequila and mariachi music, both of which originate from this state. Eddy is a mariachi singer, with a voice that can only be a gift from God. Very early in his childhood, Eddy's singing talent was recognized. Even as a child he had many successful performances, also together with his father. But unfortunately his unique talent was not encouraged. At a young age, Eddy was already singing in Puerto Rico, as well as performing with many mariachi bands in all Latin American countries. Later, Eddy came to Gran Canaria with his mariachi band to build a musical existence here. Due to similar mentalities of the Spaniards and Mexicans, this music was of course very well received by the Spaniards. But also the performance of Eddy and his group "Azteca Mariachi" was perfectly received, when the artists "storm" the stage with original Mexican costumes and their real sombreros. Eddy, as the frontman, can also sing perfectly a capella, he does not necessarily need a playback as background music. He has a strong voice and masters many vocal registers perfectly. Give Eddy a guitar, make a wish for a song and Eddy will amaze you. During one of his performances here in Gran Canaria, Eddy also amazed Marion. Marion also immediately recognized Eddy's singing qualities. After several conversations among themselves, Eddy and Marion made the decision to sing together. When they realized that they both also go down well with the audience together, the decision was made to form a duo that is still active today. The duo "The Cariños" was born.